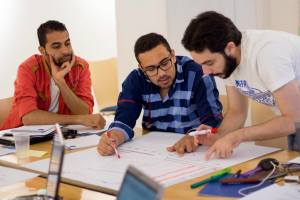 Cairo- InfoTimes has recently launched a number of training workshops on Data Journalism in Egypt, highlighting the centre's commitment to improving journalists' skills and professionalism.
Throughout November, InfoTimes is conducting the series of 10 workshops, which were aimed at providing the essential concepts, techniques and skills to effectively work with data and produce compelling interesting data stories.
"It is a privilege for us to help Egyptian journalists learn about this new genre of reporting that takes advantage of the huge number of data sets that are available everywhere," said Amr Eleraqi, founder and director of InfoTimes. "These courses will cover everything you need to know about infographics and data journalism," he added.
The workshops are beneficial for both journalists, who have not ventured to do this kind of work before, and practitioners with more experience looking to brush up on the basics of the field. The workshops is also open to people in any field – from designers, developers and public information officers to citizens simply interested in knowing more about these research skills – and it may be particularly useful for editors and managers in the newsroom looking to communicate more effectively with their staff regarding data-based projects.
The workshops cover:
– Basics of Data Driven Journalism.
– Collecting and Scraping Data.
– Analyzing Data.
– Data Visualization.
– Data Mapping.
– Coding for journalists.
All workshops will include videos, tutorials, reading materials, exercises and quizzes.
For more information about the workshops click her, to register please fill this form.