Bloggers, hackers, designers, statisticians and other citizens who are interested in Open Data and Transparency are gathering online and offline today for the International Open Data Day. The Open Data day is a yearly event that is meant to encourage openness and government's transparency.
The Open Definition sets out principles that define "openness" in relation to data and content. In brief, the definition states the data should be accessible to anyone, they also should have the right to redistribute the data they get access to and reuse it without any legal or technological restrictions. They are also free to use it in whichever purpose they see. The party releasing the data may ask for attribution by those who use it, however they should not impose any restrictions on any person or group.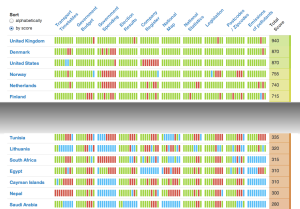 As a way for measuring transparency in governments, and how much they adhere to the open definition, a yearly report is run by the Open Knowledge Foundation to show how open is each government in 10 different fields, including transportation, government spending, legislations and education. The report for the year 2013, covered 70 countries, including Arab countries such as, Tunisia, Egypt, Saudi Arabia, Bahrain and Yemen. The United Kingdom and the United States of America came first and second respectively. The two governments use a Free and Open Source tool to release their data, CKAN. The software platform is developed by the Open Knowledge Foundation and is free to anyone to use. A list of the governments using CKAN can be found here. Cities, regional and municipalities also release their data. New York shows a good example here. Thus, Open Knowledge Foundation is planning to run a similar report for cities and local areas.
Researchers, NGO's and citizens do also release important datasets. The Frictionless Data project is working on a set of protocols to make it easier to package datasets in a machine readable format. In addition to that, the Open Development Toolkit aims to deliver tools and training around open development data.
If you find the above topics interesting, feel free to join any of the Open Knowledge Foundation projects, lab projects and/or working groups, and if you think you are lost, feel free to contact us and ask for help.